In the News



On the Air: Class of '78 Making Waves!

These notes from Margarita Montoto:
"We're so excited to announce that Arthur Golden's MEMOIRS OF A GEISHA will be a part of PBS' The Great American Read PBS, which was just announced! The G

reat American Read is an eight-part series designed to spark a national conversation about reading and 100 "books that have inspired, moved, and shaped us."
This program has already aired. This is the original posting!















Successful 'Paperless Phonathon'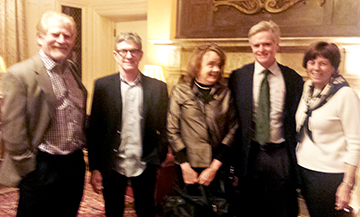 The Class of '78 Paperless Phonathon
on April 23
was well attended and a
lot
of fun. Mike Gibbons (LA), Mike Pralle (New York), Rosina (Bateson) Barker (DC), Steve Parker (New Jersey), and Julie (Wilson) Sakellariadis (New York) ,from left to right above, took over the Gordon Reading Room in the Harvard Club of NYC, laptops and cell phones in hand, and worked hard. Joe Downing (Boston) just missed the picture; photo credit: Paul Mulkerrin.
A special hats off to Stein Rafto who worked from Hawaii that evening, making over 30 calls.