Welcome
Thank you to those who attended the 40th Reunion in October! It was a fantastic time!
Thursday, Oct. 11 - Sunday, Oct. 14, 2018!
Click here to view the reunion schedule.
Click here for FAQs on the reunion.
Click here to see who attended.
Click here for information on the Memorial Service for our classmates who we will honor.
Click here to go to the Class Store. It's now open for business, and you can order now!
Click here to see the class survey results.

And to get you into the spirit of celebrating, take a look at photos in the Now and Then section! Please send us your favorite photos so that we can celebrate our class Now and Then. Photo highlights from pre-Reunion events are also in this section. Also why not send a brief video selfie? We have some videos in the Now and Then section. Please see below for more details on Reunion related activities and logistics. And by the way, Class of '78 continues to "Make Waves". Click here for "In the News". Information on our Class as we prepare to roll out the carpet will be added on a regular basis.
Stay tuned!

Greetings to Our Classmates From Class of '78 Co-Chairs Mark Gearan and Phyllis Yale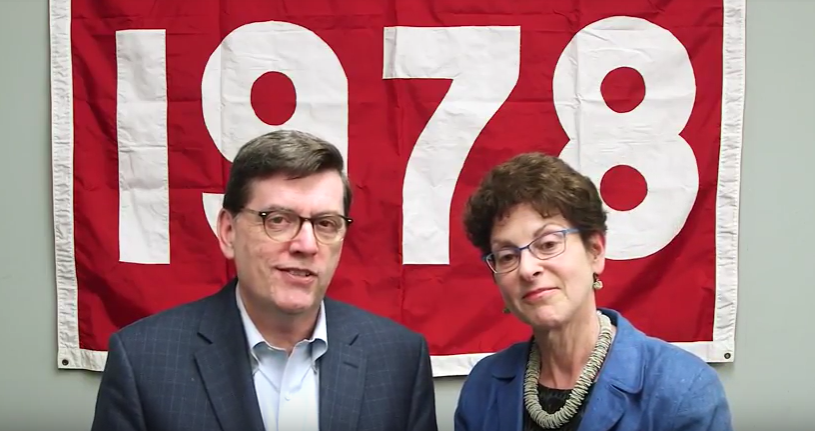 Message from Mark and Phyllis: Financial Assistance
We have tried to keep this reunion affordable, and it is indeed less expensive than our 35th. But we are well aware that it will still be difficult to afford for some of our classmates. So we have arranged the following:
Financial assistance is available to classmates. Just contact the HAA at CollegeReunions_haa@harvard.edu. This is being funded through a part of the registration fee, which instead of being used to purchase an expensive memento, will be used to welcome additional classmates. Financial assistance is available on a first-come, first-served basis.
We will facilitate ride-sharing from New York, and hope that will serve to defray travel expenses for at least some of our classmates.

A Big Thank You to All of You on the Reunion Committee!
This Reunion will be something special, and we want to make sure that you not only enjoy the fruits of the labor of the Reunion Committee this weekend but to also congratulate your Classmates who have given their time to make this a success for all.

Here's What You Can Do Now!

Connect with Classmates - A New Reunion Facebook Group
Connect with old friends and classmates and make sure you join your new Reunion Facebook group for the Class of '78. Share news and experiences with each other and make plans for the Reunion in October. Did you know that we now actually have 2 Class of 1978 Facebook groups?

Our 2nd and new 40th Reunion – Harvard 1978 group has been set up specifically for Reunion updates – who is coming, what is being planned, advance events/parties, etc.
https://www.facebook.com/groups/912112985630256/
Why not ask 5 of your friends from the Class to join the Reunion Class of '78 FB group! If you already have FB friends from your class just invite them to join the Class of '78 FB group also for exclusive news on what's coming up. Lots of fun!
Our original Harvard College 1978 group on Facebook is where we have been encouraging people to post Harvard news and general news about our classmates. It is a permament group that has been active for many years.
https://www.facebook.com/groups/133325283370110/

REUNION PLANNING NOTES: Back to School! Why Not Sit in on a Class!
HAA has made arrangements for us to sit in on select classes on Friday (a mere two days from now) for those with an inclination. Click here for the list and the schedule.

REUNION PLANNING NOTES: Memorial Service
During Reunion weekend we will take time for an interfaith Memorial Service of remembrance on Saturday, October 13th at 10:45am in Memorial Church. Led by classmates Barry Vaughn and Joy Fallon through prayers, readings, and music from multiple faith traditions, we will acknowledge those members of our class who have passed since the last reunion and will offer solace and consolation to our surviving class members. We are inviting relatives of the deceased to attend the service and submit brief written reflections for the program. Classmates are also invited to send brief written comments that highlight and capture the personality of the deceased to Tom LaMattina by October 8th. The memorial service program will include these reflections.

In addition, Susan Erburu Reardon and George Reardon are seeking volunteer singers to form a choir for the service. Rehearsal time for the choir is set for Friday, October 12 at 2:45-4:00pm in the Choir Room located in the basement of Memorial Church. The Choir Room can be accessed from a door facing Canaday Hall on the north side of Memorial Church. All of the music is for SATB voices, so we hope for good participation from all voice ranges. We welcome additional singers to ouro choir. Interested classmates should contact susan.reardon2@gmail.com andGeorge.reardon1@gmail.com who will be happy to provide scores for the music to be sung.

REUNION PLANNING NOTES: Park the Car at Harvard Yard
Yes Fellow Classmates, there is a parking space FREE for Class of '78 at Harvard Yard. Parking will be at the 52 Oxford Street Garage and is free for anyone attending the Reunion for the duration of the weekend. There will be staff at the front door of 124 Mt. Auburn, and at the elevators, to direct people to the sixth floor. Also, click here for other parking options throughout Reunion weekend.

REUNION PLANNING NOTES: Dress Code Ideas
We've received a lot of questions about the kinds of attire recommended for each event. Whatever you choose it will be a success. Still, these are the ideas that we can suggest:

Daytime events: casual attire
Friday night at the Museum: Business or dressy casual attire
Saturday night: Festive attire

If any more questions please don't hesitate to let us know in our Reunion FB group:
https://www.facebook.com/groups/912112985630256/
REUNION PLANNING NOTES: Friday Nite After-Party
Whether you are joining classmates for the Night at the Museum, or venturing down to Harvard Stadium for the football game, you are all invited to an after-party at the Hong Kong, 1238 Mass Ave, Harvard Square, Friday Night October 12 9:30-midnight.
We'll have light appetizers/snacks, mostly cash bar, and a DJ who will play songs from our era - the sixties to the dawn of disco - with more recent favorites as well. This event is open/free for anyone who registered for the reunion, but we need you to sign up in advance so we can get a head count for late night snacks and get free drink tickets into your packages! To sign up go to:
https://harvard.az1.qualtrics.com/jfe/form/SV_37tNObUlTxj0pgx
REUNION PLANNING NOTES: Where to Meet for Harvard-Holy Cross Football Game & Tailgate Party!
Though we have no formal seating block, Classmate Paco Canales has volunteered to help create one. He will position himself at the back (top) of section 31 (midfield, Harvard side) at 6:45 PM, wearing his letterman sweater. From there, the group can identify "unclaimed" seats and descend, creating an impromptu seating block. Paco's cell phone number will be available at the registration desk. Thank you, Paco!
Stay tuned: details on a tailgate event are forthcoming.
Reminder: Hong Kong (9:30 PM) is an excellent place for classmates who have been at the game to meet up with those who have been at the museum.
Classmates Jackie Whitney and Paul Halas have volunteered to host a small-scale tailgate prior to the Holy Cross game this Friday evening. They intend to set up shop at the closed-end of the stadium, as close to North Harvard Street as possible, from about 5:00 PM until shortly before the 7:00 PM kickoff . (Look for the Chicago Bears flag.) Given the possibility of rain, they will use their best judgment regarding when to declare the event a "rainout." Paul's cell phone number will be available at reunion registration.
They would like an approximate headcount; please RSVP me (affirmatives only):
leavellme@aol.com
. A big "thank you" to Jackie and Paul.
REUNION PLANNING NOTES: Tickets for Harvard-Holy Cross Football Game
The schedule for our Reunion weekend will be a feast for all pursuits, including football. Harvard kicks off against Holy Cross at Harvard Stadium on Friday, Oct. 12, at 7pm. Tickets are NOT included in the registration packages (which will be announced shortly). In the meantime, if you do want to attend the game as part of Reunion festivities you can click here to purchase your ticket.
https://tickets.gocrimson.com/Online/mapSelect.asp

REUNION PLANNING NOTES: The Survey is Now Closed. Thank you!
Thank you fellow Classmates to those of you have completed the Survey! Marc Sadowsky, Ann Kouffman-Frederick, and Cliff Leach are now completing the process of analysing data supplied by hundreds of of classmates. The results are guaranteed to be revealing to profiling who we are and what our aspirations are. They'll be shared as the closing event for our weekend at the brunch on Sunday, October 14.

REUNION PLANNING NOTES: Talent - Creative Works Update
Thank you all! For those of you who have submitted your work that will be featured at our Class Digital Presentation of Creative Works. We're excited by this event as part of our Reunion that will showcase some of the talent in our class.
If there are further questions about the presentation please contact Ken Williams at: kenneth_s_williams@hotmail.com.

Class of '78 Congratulates Class of 2018 at 367th Commencement
The celebration for our own class has already begun. The Class of '78 showed its colors at the 367th Commencement on May 24th, for the Class of 2018. Our classmates gathered at the Class of '78 Reunion headquarters at Thayer Hall. And they brought some style to the occassion to showcase the class all of us will bring to our own Reunion in October! (from left to right: Jamie Arena-DeRosa, Paul Mulkerrin, Rudy Pizzano, Tom Johnson,
Don Guiney, Mark Gearan)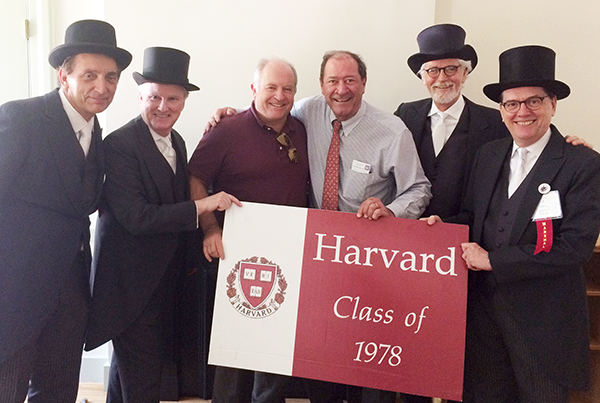 A Funny Thing Happened on the Way to the Reunion......Pre-Reunion Events Everywhere!
We have had a successful series of pre-Reunion events around the country this summer and into September! It's been a perfect way to to get into the spirt, by seeing old friends and making new ones. Take a look below at some of the highlights! With more on the Now and Then page.

A Funny Thing Happened on the Way to the Reunion..... Class of '78 Goes to Ig Nobel Prize Night at Sanders!
Thanks to each of you who was in the class-of-'78 delegation to the Ig Nobel Prize ceremony last night in Sanders Theatre, and especially to Marc Sadowsky for organizing the delegation. Here's video of the whole show:
Class of '78 Goes to Ig Nobel Prize Ceremony!
A Funny Thing Happened on the Way to the Reunion.....Cool Breeze in the Windy City
There's still time to RSVP for our Chicago Pre-Reunion Event! Chicago-area Classmates are invited to a Pre-Reunion gathering at Madison Tavern (in the Ogilvie Transportation Center) from 6 - 9 p.m. on Sept 20. Come enjoy drinks and American tapas and see old friends and meet new friends. Hosted by '78 Classmates Linda Goodman, Bob Palay, Rob Rubin, and Tina Tchen. RSVP (including plus one) by Sept 14 to ttchen@buckleysandler.com.

A Funny Thing Happened on the Way to the Reunion......Successful Evening a Stone's Throw from Harvard...Boston!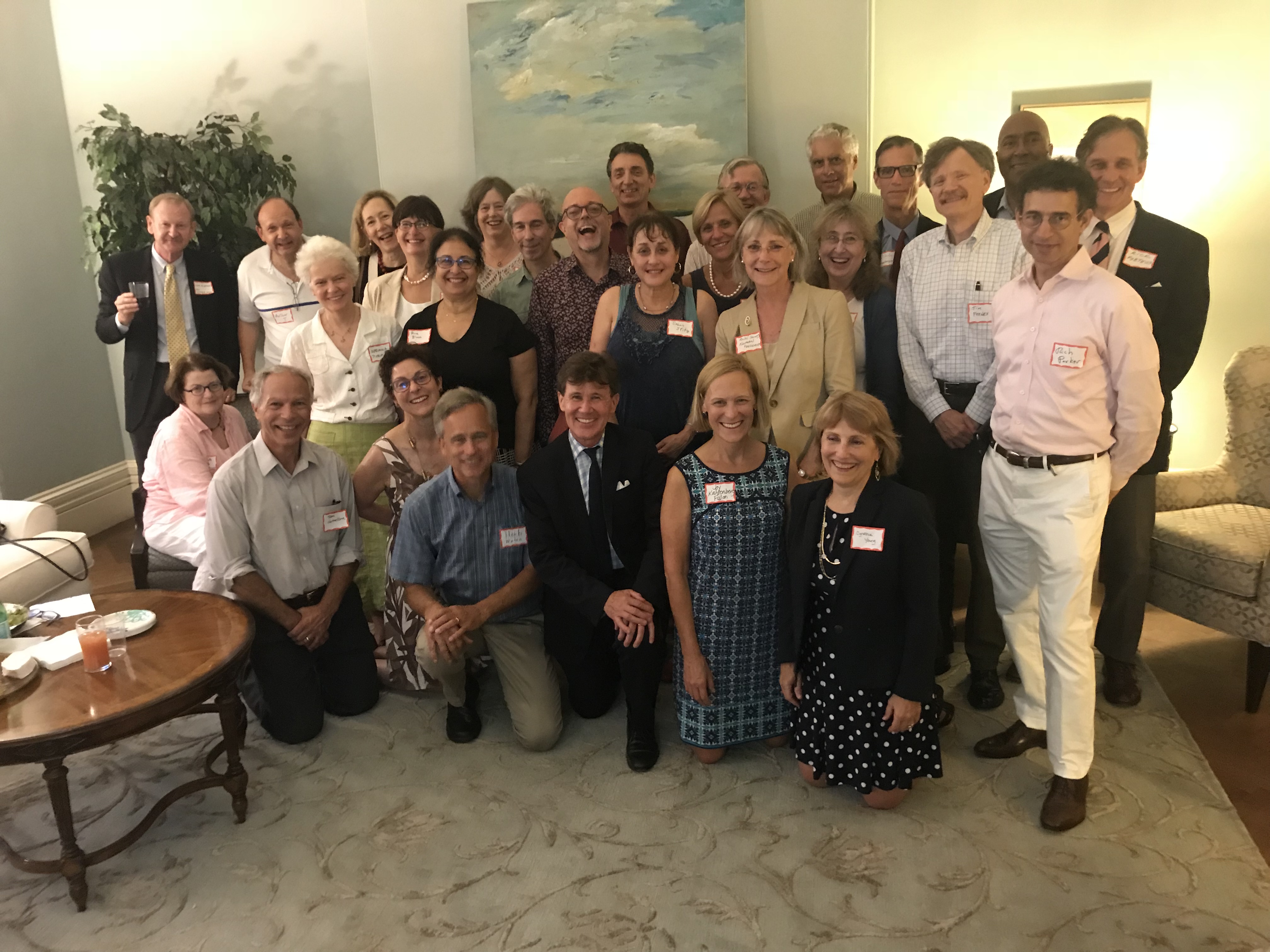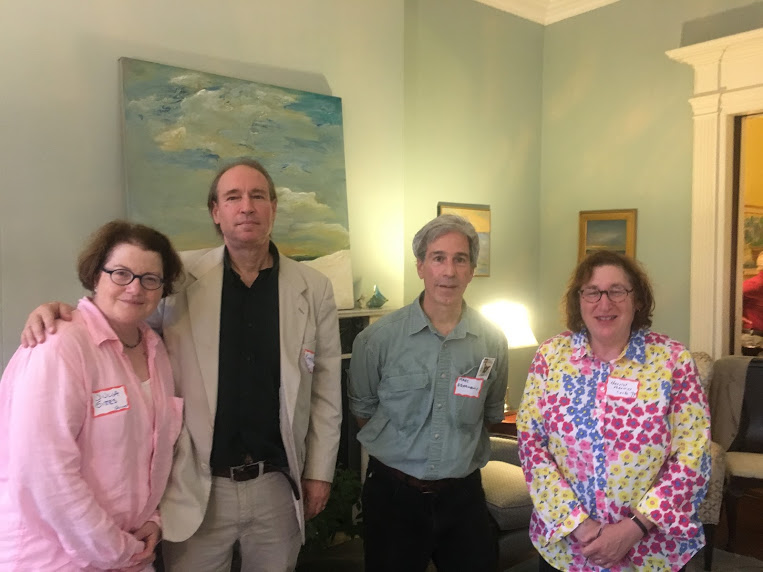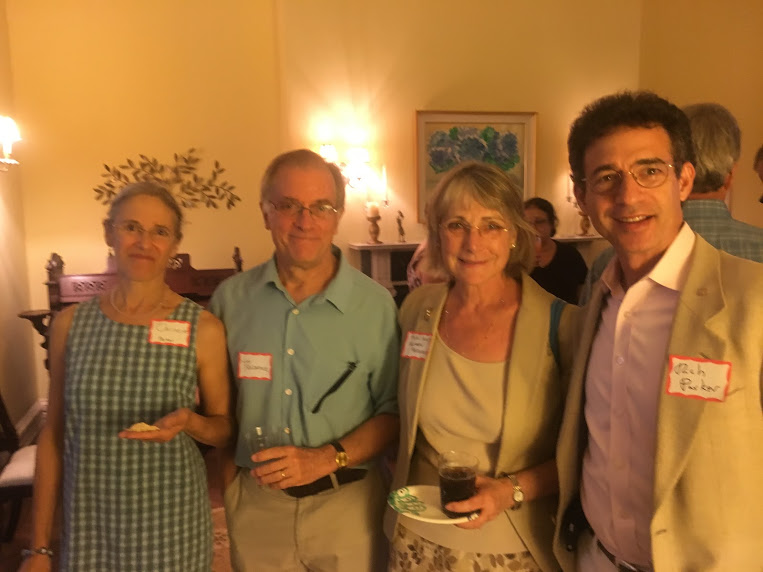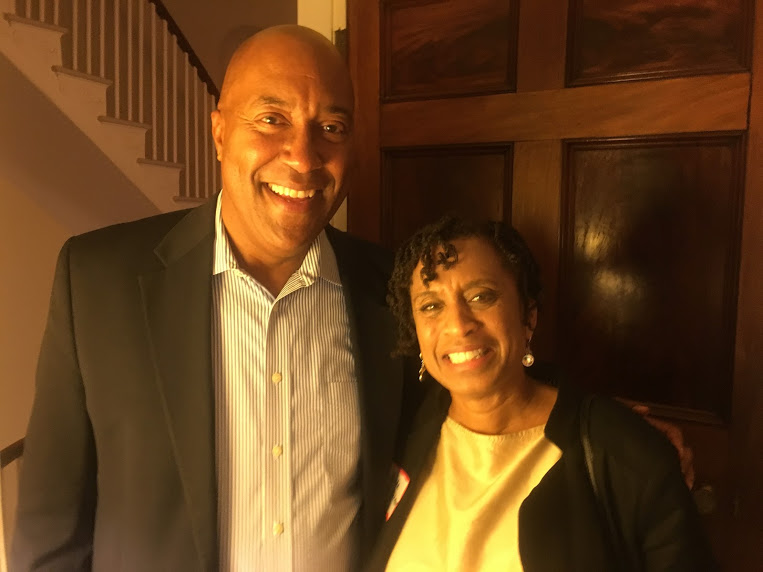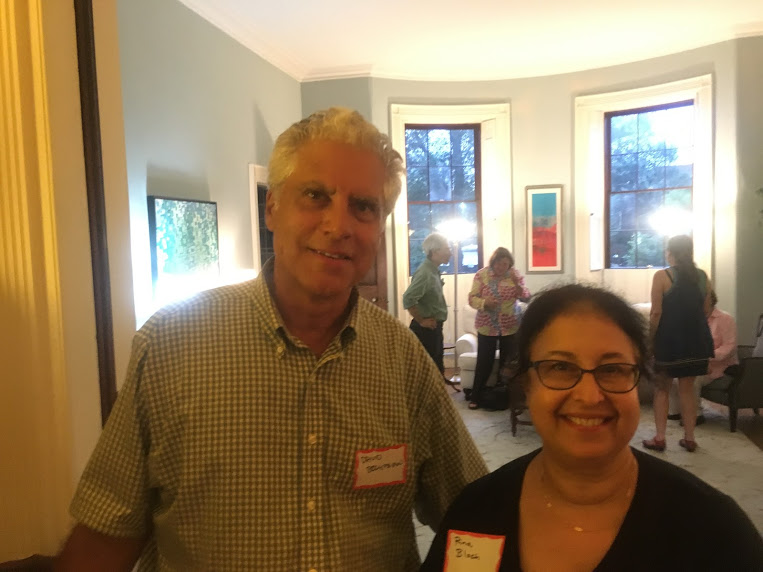 Boston: September 6 - Nearly 50 Classmates and guests gathered for Pre-Reunion food, drink, and conversation. Despite a last minute rain storm that moved the garden party indoors, the lovely home of Classmates Joy Fallon and Bob Fallon easily housed the crowd. For more of these photos from this pre-Reunion go to Now and Then. If you see yourself in these photos - or recognize a fellow Classmate - please let us know on our FB reunion page!



A Funny Thing Happened on the Way to the Reunion......Successful Golden Gate Brunch!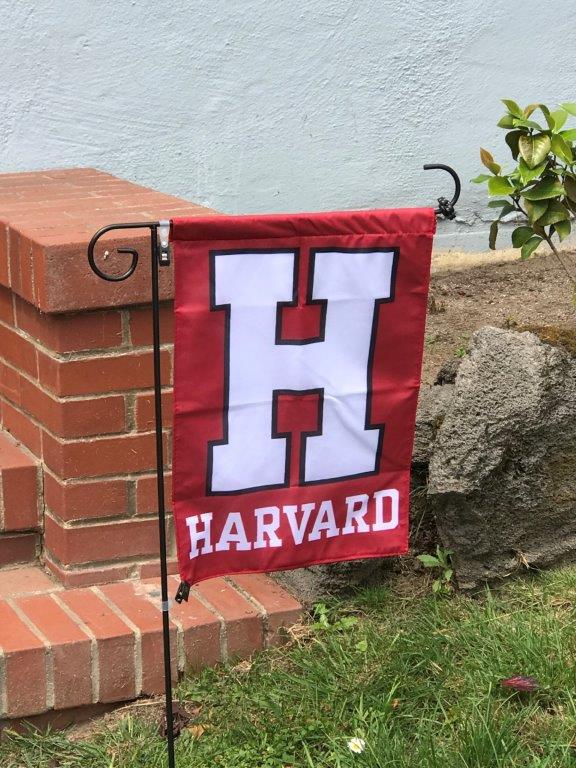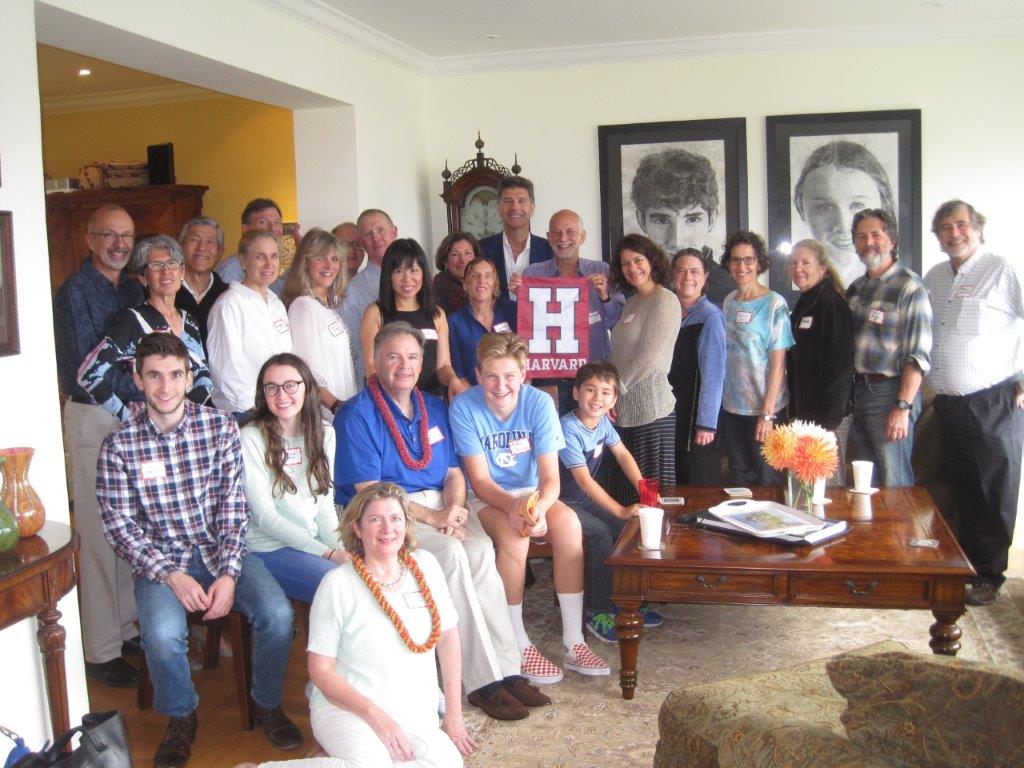 San Franciscso: August 26. This note from Chris Down '78: "I think we all had a blast. I know I did! It was over too quickly.. Special thanks to my wife Dawn (a Dartmouth alumna!) for making a supreme effort on my behalf for this event! Also: Erik Gaensler, the curator of the San Francisco City Dahlia Garden, brought dahlias, and Stein Rafto sent festive leis for the host and hostess all the way from Hawaii (evading the hurricane). See you in October,
Chris
Who's Who in the photo! (with thanks to Chris)
Sitting: C.J. Dowd H'21 and Maddie Dowd (my children), Chris Dowd (moi), Nicholas Gaensler (son of Erik G), Ethan Printz (son of Harry P).
Standing L to R: Gary Kah (husband of Taia E), Taia Ergueta '78, Will Chang '78, Shelley Marks (wife of Erik G), Erik Gaensler '78-'79, Laura Esserman '77-'78, Harry Printz '78, Bob Tillman '78, Vanessa Printz (wife of Harry P), Mindy Shapiro '78, Jennifer Hobart '78 and husband Michael Katz '78 (tall dude!), Peter Neuwirth '78 (holding "H" banner) and wife Tali Barr, Kirby Sack '78, Nancy Levin '78, Katherine Dieter (wife of Daniel R.) and Daniel Riviera '78, Michael Endicott '77 (husband of Laura Esserman).
A Funny Thing Happened on the Way to the Reunion......Climb Every Mountain.... Successful Ascent!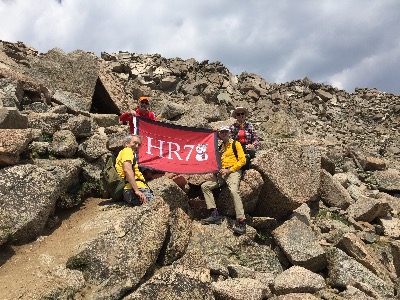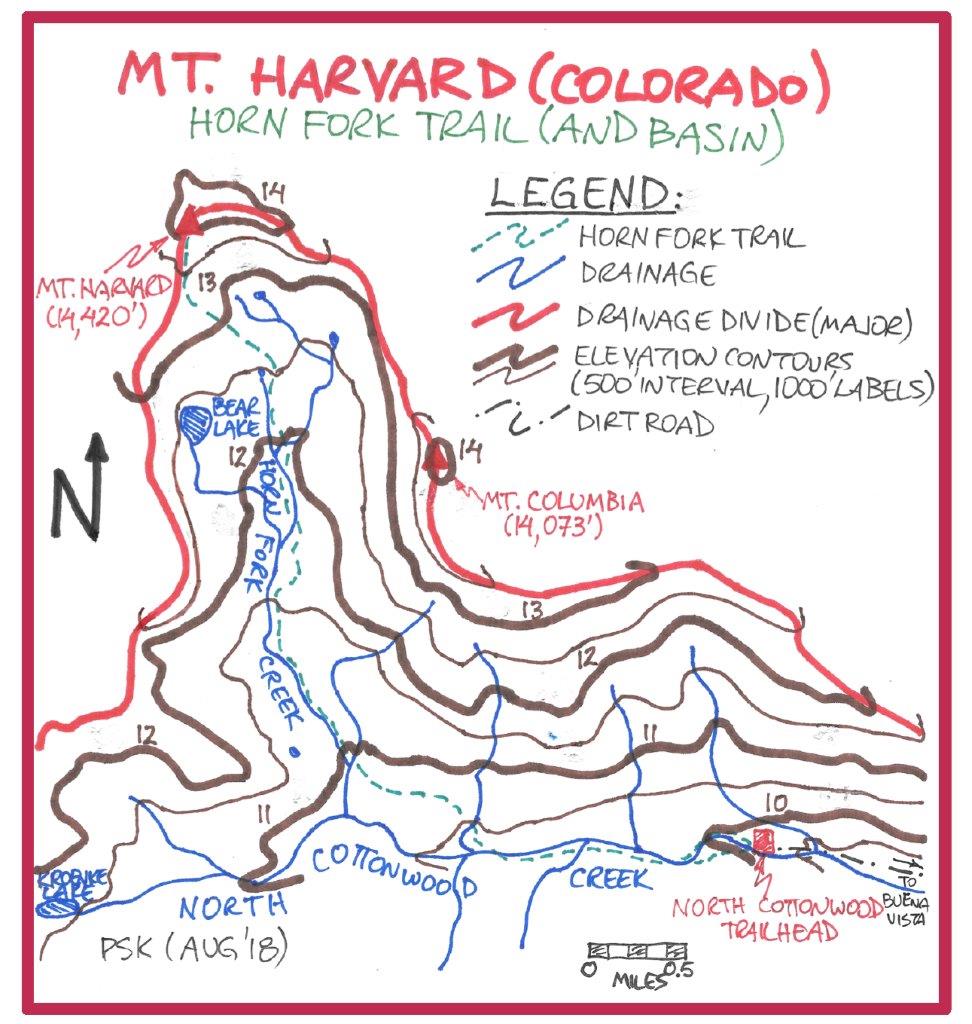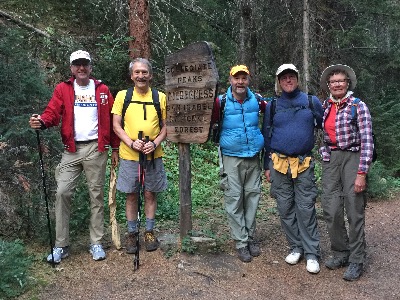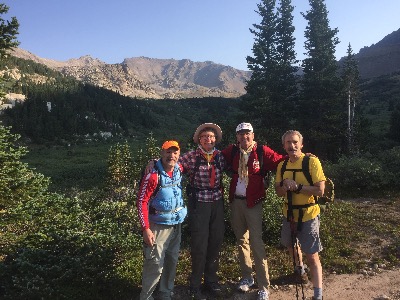 Some Class of '78 alumni decided to get into the spirit for the Reunion by climbing a mountain. Why not, if it's Mt. Harvard? Flip Koch '78 led the way with a team of fellow classmates for an all-day trek on August 8. Climb Every Mountain! The mountaineering team: '78 Classmates: Stein Rafto, Dan Peirce, Betsy Lincoln Mathieson, (her husband) Scott Mathieson, and Flip Koch.
A Funny Thing Happened on the Way to the Reunion.....Successful Evening with Carolina Mint Juleps!
Classmate Marty Gagliano hosted a casual dinner at her home in Durham, NC on Sunday, July 22.
for local classmates Jane Satter,
Bill Price
, Elisa Wolper, and
Wanda Urbanska
.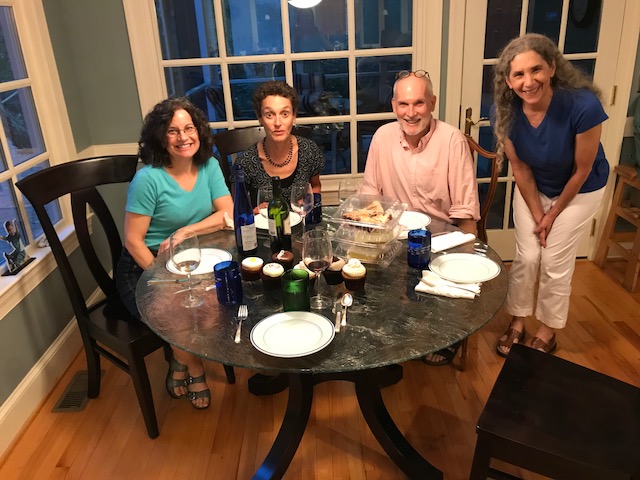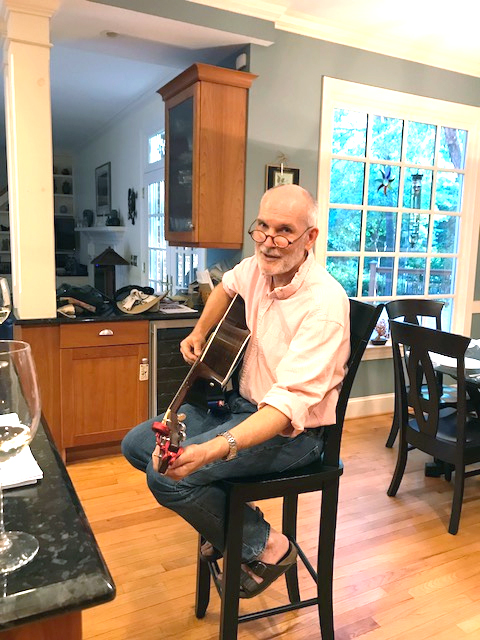 A Funny Thing Happened on the Way to the Reunion......Successful BBQ in the City of Brotherly Love!


John Chou hosted a casual barbecue on July 29th for Philadelphia-area (Delaware Valley) '78 Classmates!

A Funny Thing Happened on the Way to the Reunion......A Successful Night at Soiree' on the Potomac
These notes from Dan Poneman '78: "Around 30 DC-area 78ers got together over cocktails (July 23rd}, caught up with old friends, and even made some new ones! (Still crazy after all these years....) Karl Bostic, just passing through town, spoke on behalf of the Reunion Committee. Co-hosted by Chris Healey, Andy Karron, Tim Massad, Renee Matalon, Steve McNabb (who kindly provided the venue at the offices of his firm Norton Rose Fulbright), Dan Poneman, and Janet Storella, classmates reminiscences were fueled by a pumped-in sound track featuring such 70s' classics as "Landslide" and "Don't Fear the Reaper". More cowbell!"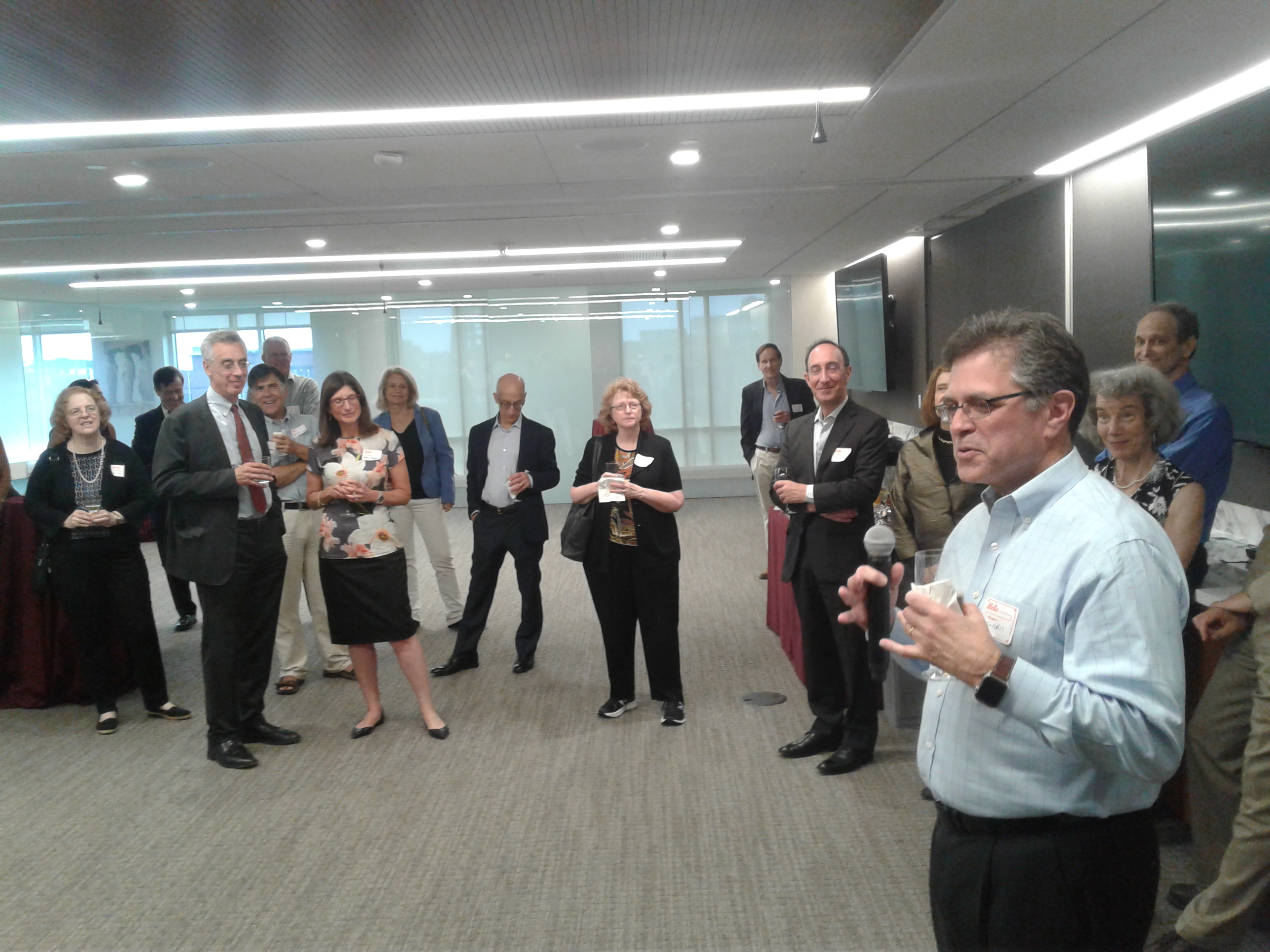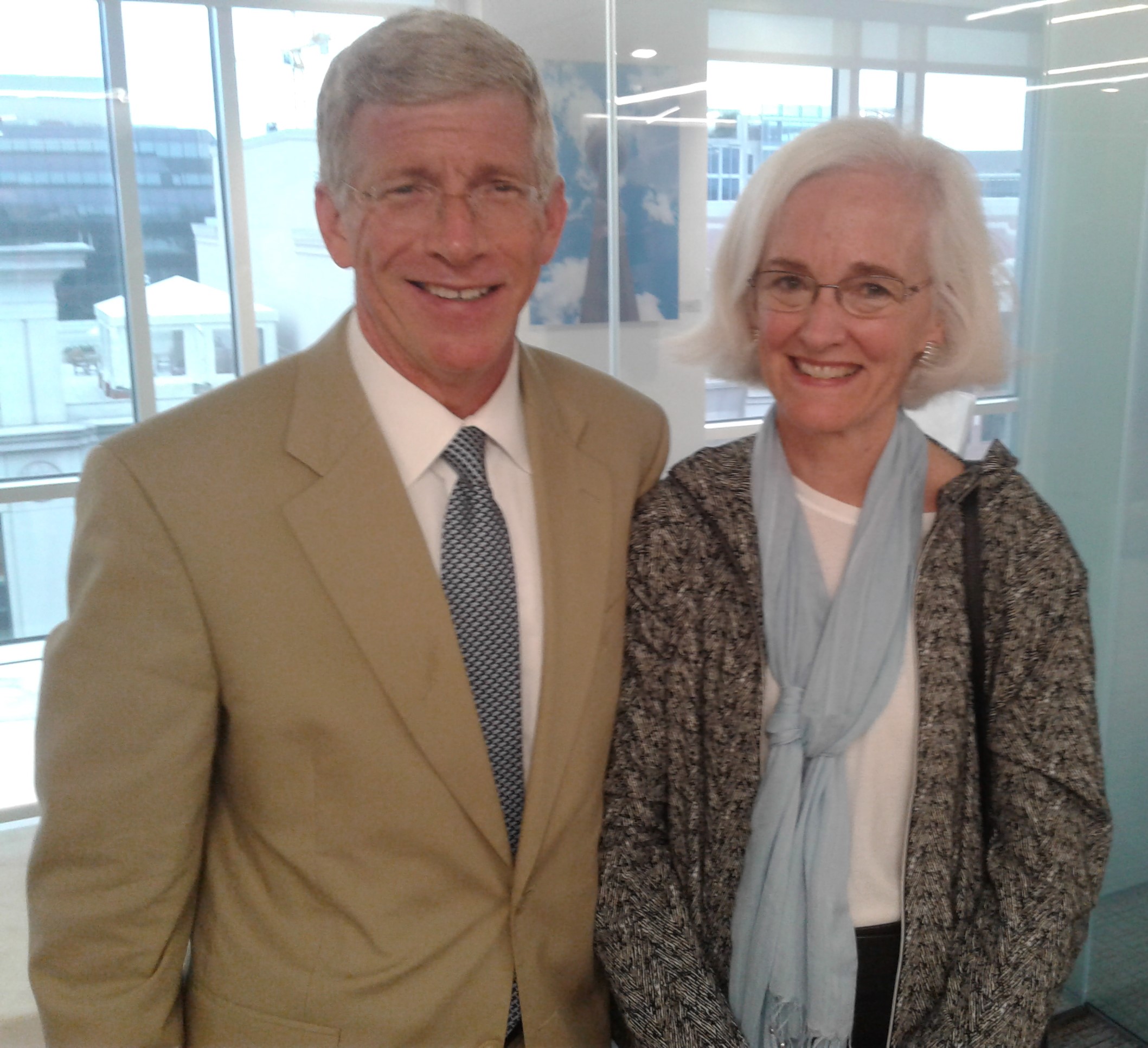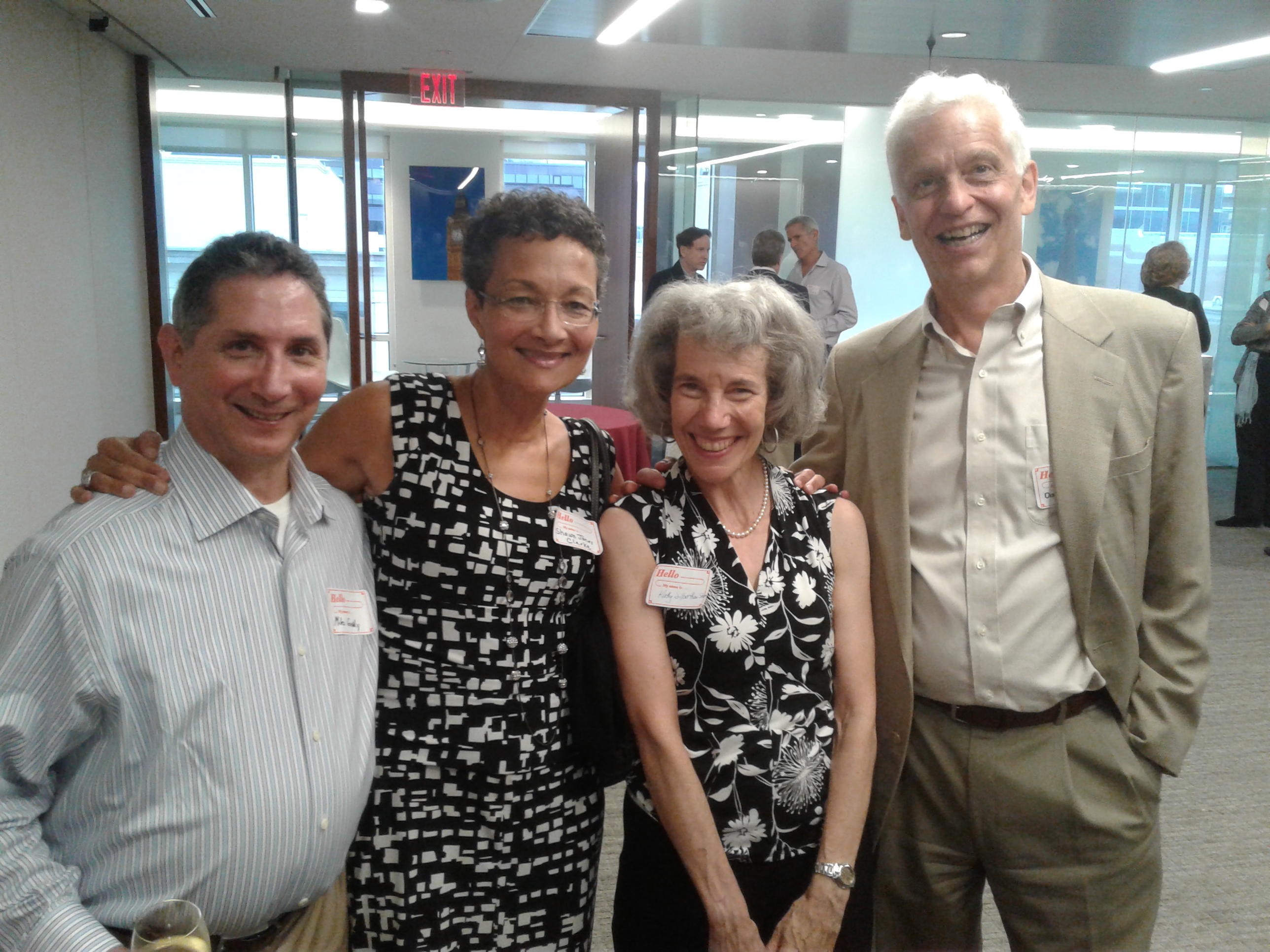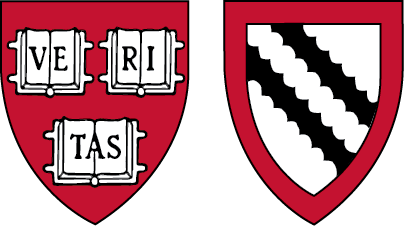 Click through for more information...
Harvard-Radcliffe Class of 1978 Reunion
11 October 2018
| | | | | | | |
| --- | --- | --- | --- | --- | --- | --- |
| 00 | : | 00 | : | 00 | : | 00 |
| days | | hours | | minutes | | seconds |